---
About Applet troubleshooting
Because there are millions of different Applets on IFTTT, our team is limited in what we can support directly. If the steps below don't help, check out the communities of IFTTT experts on Reddit or Hackster.io to see if your problem is known or being experienced by other users.
Refresh or reconnect your service connection
Refresh your connection to the services involved in an Applet by going to the service page and clicking "Edit connection." Starting fresh can help clear up problems your Applet may be having. Here's a screenshot to help you see where to edit your connection: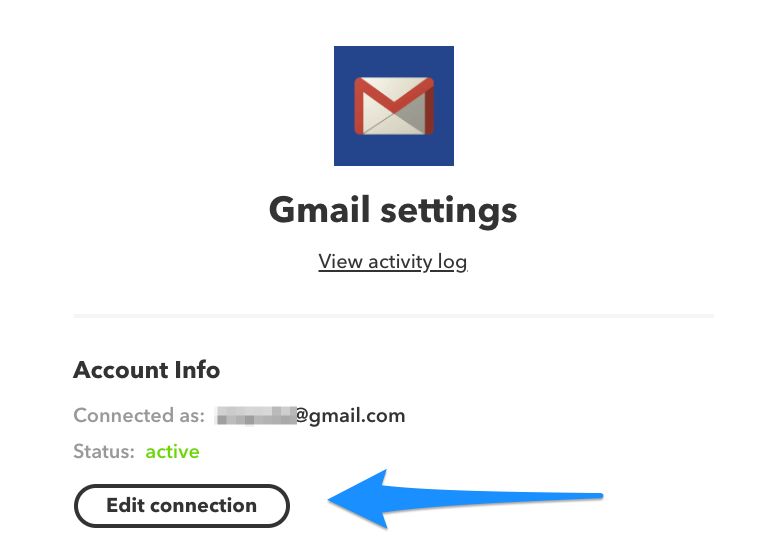 Search for service specific tips
Google "[service name] IFTTT help" - it's possible that the service has tips and specific requirements in their help center for how to use their service with IFTTT.
Double-check the trigger and action fields in your Applet
Verify that the intended Ingredients are being used where and how they should be. For example, don't use a filename ingredient for an image action field.
Test a variety of Applet configurations
When triggering an Applet for testing purposes, you can use the "Check now" button on the Applet card to force the Applet to check for a trigger. If you ever see a 'Cannot check Applet' error, it means something is preventing the Applet from running. Make sure your Applet is set up using the correct fields and ingredients. 
Check your Activity Feed
This will show you are any error messages there that can help you understand what is preventing your Applet from running. There is an error glossary that can help you better understand errors in your feed. If a specific service returning an error, try refreshing your connection to that service.
IoT devices (smart home products, voice assistants, etc) 
If you are using an Applet with an IoT device that is not running successfully, try a full reset of the device, double check that you have connected IFTTT to the same device account where it is registered, and ensure your internet connection is strong. Also confirm that your device is IFTTT compatible.
'File Not Found' error
This likely means that a required Applet field is empty or not filled out with the correct ingredient. Check your Applet settings to see if they can be modified.
If the above information doesn't help to get your Applet working, please visit the IFTTT status page and the communities on Reddit or Hackster.io to see if your problem is known or being experienced by other users.