To get started, just say the following to Siri:
Take a note with an Applet, or
Take a note with I-F-T-T-T
Note: Siri doesn't usually understand the correct pronunciation of IFTTT ("gift" without the g), so it's best to spell it out.
What is the Note widget?
Note widget is a service on IFTTT that's powered by the IFTTT app. You can connect its one trigger to any action on IFTTT to create a two-step experience for running that action:
Write or speak something (the input text)
Press the widget button
Typically, Note widget Applets will have the input text sent to the action. For example, the "Quickly email yourself a note" Applet sends the input text to the body of an email.
You can read more here about how to use Note widget and its siblings, Button widget and Camera widget.
How do I use Note widget with Siri?
Make sure you have at least one Note widget Applet turned on. The "Quickly email yourself a note" Applet is an easy one to try out.
The rest is easy. Just tell Siri "take a note with an Applet." The first time you do this, you'll get this prompt: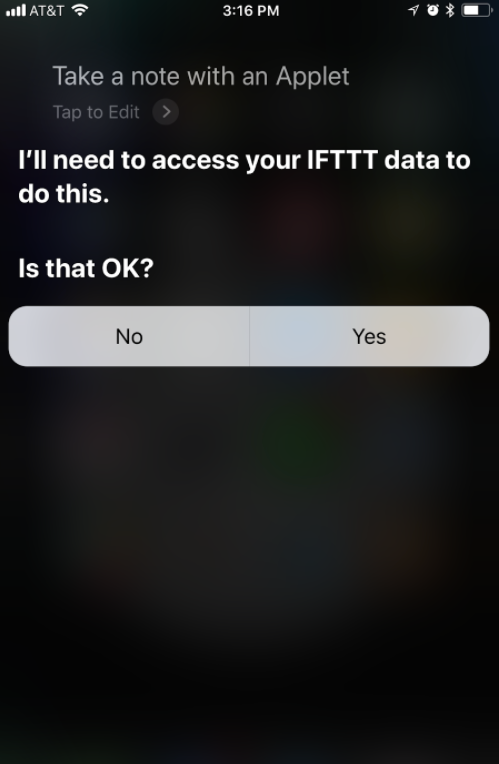 Tap Yes to continue.
When Siri asks you what you want your note to say, it's up to you. Whatever you say becomes your input text.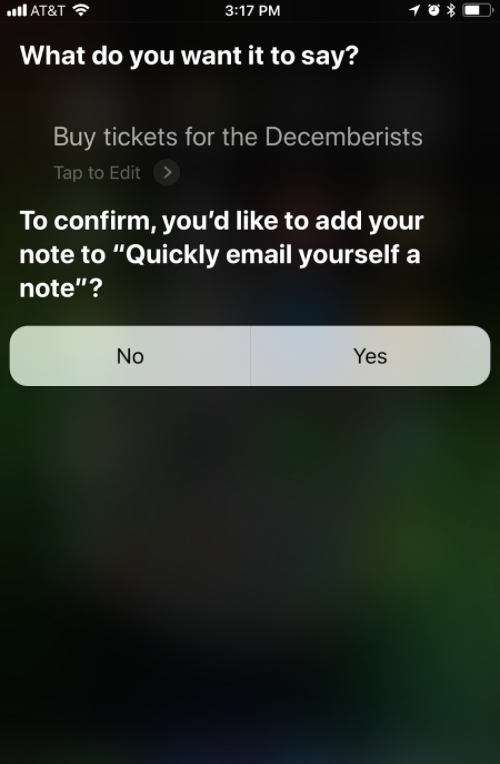 If you only have one Note widget Applet, Siri will ask you to confirm its name. If you have more than one, you'll pick the one you want from a list.
Once you confirm the Applet, you're done! IFTTT will take care of the rest.