This feature gives Pro+ users the ability to connect and manage multiple accounts for certain services.
How to add another account
You can view, edit, and add accounts by going to the Settings page for the service, or during Applet creation.
Add an account while making an Applet
To add a new account when you are in the process of creating an Applet, select the Add Account button under the account dropdown. This can be done during the trigger or action steps for any Applet.
This will open a new window and provide you with the option to log in or create an account for the service you want to connect. Once you have authenticated the new account, you will be given the option to toggle between accounts in the dropdown menu.
The first account added for each service becomes the primary account, meaning that your Applets will default to this account unless otherwise specified.
Add, remove, or reconnect an account
You can manage your connected accounts by going to the Settings page for the service itself. There, you will be able to see all of the accounts that have been authenticated and connected to your IFTTT account. You can choose to Remove, Reconnect, or Add a new account from this page.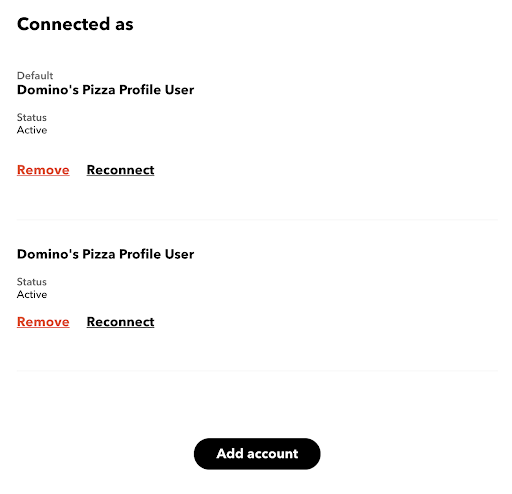 Why does it say Default?
The first account you sign into and authenticate becomes your default account. If you create or enable an Applet using that service, this will be the account that is used unless you specify otherwise.
Unsupported services
Non-authenticated services like RSS Feed, Location, and Weather Underground cannot have multiple accounts associated with them because they do not require a login or associated account.
Additionally, Discord, Spotify, and Google Assistant do not yet support multiple accounts.